Windshield Wiper Blade Replacement
Windshield Wiper Blade
Replacement in El Paso, TX
Windshield Wiper Blade Replacement Service Available Near Fort Bliss, TX at Viva Mazda
At Viva Mazda in El Paso, our certified technicians recommend having your windshield wiper blades inspected at least once or twice per year. Periodic inspections can help identity worn-out blades that can no longer perform proficiently. If you haven't had your wiper blades checked recently or suspect that they may be damaged, schedule your appointment for windshield wiper blade inspection and replacement services today. We invite you to look through our service specials to see if you can save on your appointment, then schedule on the day that works best for you.
Signs That Your Windshield Wiper Blades Need to Be Replaced
Have you noticed that your wiper blades are brittle or cracked? Are the metal frames warped or broken? Do your wiper blades make a clicking or squeaking sound when in use? If you've noticed one or more of these symptoms of failing wiper blades, make sure to have them replaced sooner than later. Damaged blades will merely smear the moisture across your windshield rather than effectively removing it.
Viva Mazda Shares the Need for Functional Windshield Wiper Blades
When windshield wiper blades move across your windshield, you need them to remove moisture rather than smear it. This is essential for adequate visibility when driving. Our certified Mazda technicians recommend routine preventative maintenance and replacement to keep your wiper blades performing at optimal levels. This way, you can ensure that your blades will be replaced promptly before they cause an issue or potential damage. While you may question whether you are blades need replacement in the heat of El Paso, sunlight and UV rays can be even worse for your blades, as they can cause them to crack and become brittle.
Don't Risk Unsafe Driving Conditions with Poorly Performing Wiper Blades
You might be asking yourself whether you need to have your wiper blades replaced. The clear answer is yes. If worn out, broken, or have rounded edges, they can cause unsafe driving conditions. This is especially true during inclement weather or in the midst of a sand storm. If you cannot see clearly, you may not be able to stop in time to avoid an object or vehicle in front of you. Keep your safety and that of your loved ones in the front of your mind, and schedule a wiper blade replacement service today. Don't put it off when it involves a quick and affordable service at Viva Mazda near you.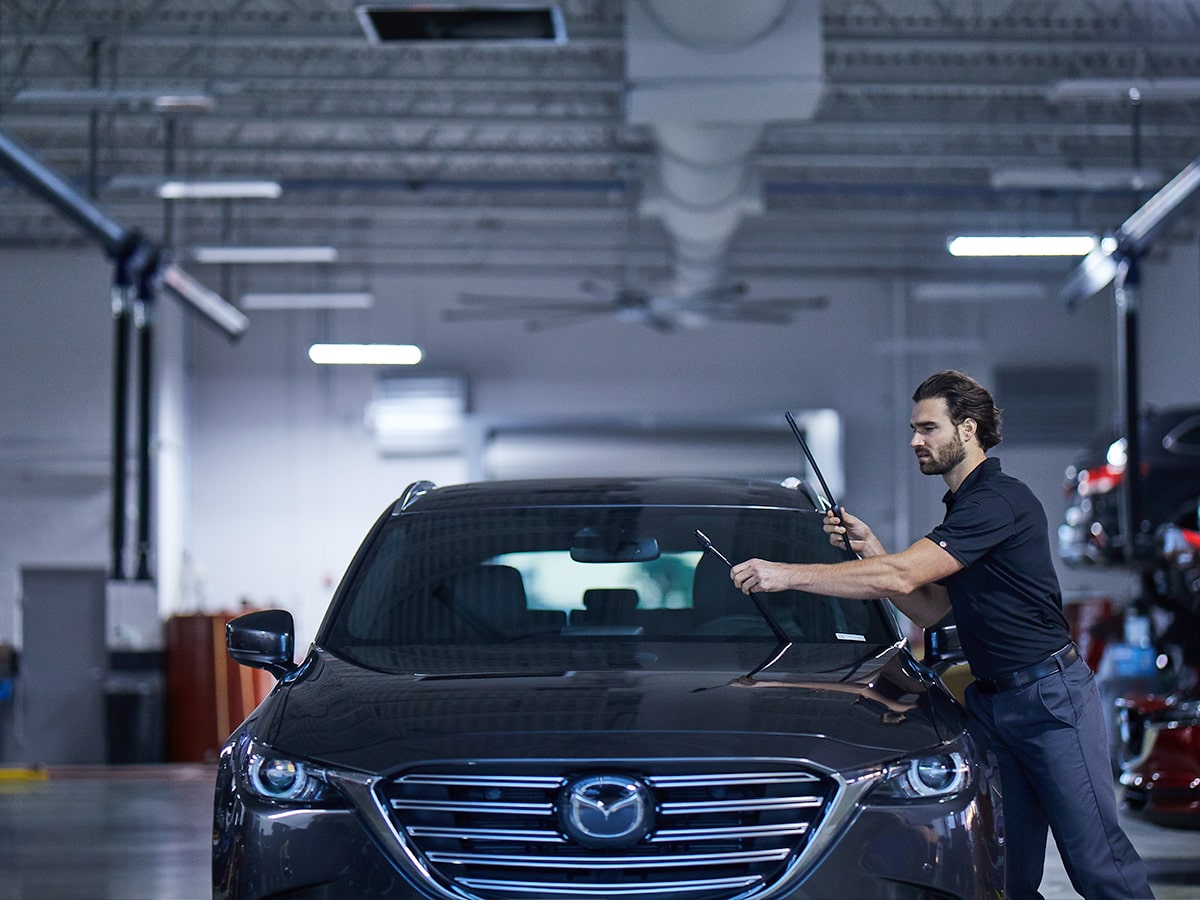 Schedule Replacement of Your Windshield Wiper Blades at Viva Mazda
You can make your appointment online using our convenient scheduling system, or you can call our certified service department and speak with one of our knowledgeable and approachable representatives. They can help you book an appointment on the day that fits best within your schedule. Whether you live in El Paso, Fort Bliss, Socorro, or Horizon City, Texas, we have the certified Mazda technicians and genuine OEM parts you are looking for. Join us at our state-of-the-art facility and see why we are the top choice in the El Paso area.
Schedule Service
Viva Mazda Service Department Amenities
State-of-the-Art Facility
Loaner Vehicles
Viva Mazda

8980 Gateway Blvd E
El Paso, TX 79907