Tire Rotation
in El Paso, TX
Tire Rotation Services at Viva Mazda in El Paso, TX
Most customers should know this, but some of how you can maximize the life of your Mazda's parts are incredibly simple. Preserving your vehicle's interior can be done simply through periodic cleanings or thorough detailing service; car washes can help preserve the paint and body of your vehicle, etc. When it comes to tires, to mitigate against constantly having to buy new sets, a simple service at Viva Mazda in El Paso, TX will help maximize the longevity of your tires: tire rotations. It may seem too easy, but a simple rotation of your tires – typically done by moving your front tires to the back and vice versa – can help you get hundreds (if not thousands) of more miles out of your tires than you would get without the service. When you ask a certified technician at Viva Mazda to rotate your tires, they will also identify any other problems contributing to uneven tire wear, such as alignment problems and other factors that can wear your tires out prematurely.
What Comes With a Tire Rotation Service
It's a pretty simple service. Our certified technicians will dismount and remount your tires, switching your front right tire with your back right tire and your front left tire with your back left tire. Doing so helps to promote even tread wear, and should your certified technician notice any signs of uneven tread wear, they'll be able to help you get to the root of the problem, which often lies in your wheel alignment. Otherwise, if no issues are spotted in your tires, you'll be able to hit the road again in no time at all after our certified technicians are finished with your tire rotation service at Viva Mazda.
New Tires (If Necessary) Provided With Mazda-Approved Tire Brands
Even if you constantly rotate your tires every time you have an oil change (as is recommended), no set of tires last forever. When your tires reach the end of their lives, be sure to give our service department a call at Viva Mazda. Our El Paso, TX Mazda service department provides a selection of tires from Mazda-approved tire brands, and you'll be good to go for many miles to come – as long as you keep rotating them with the certified technicians at Viva Mazda.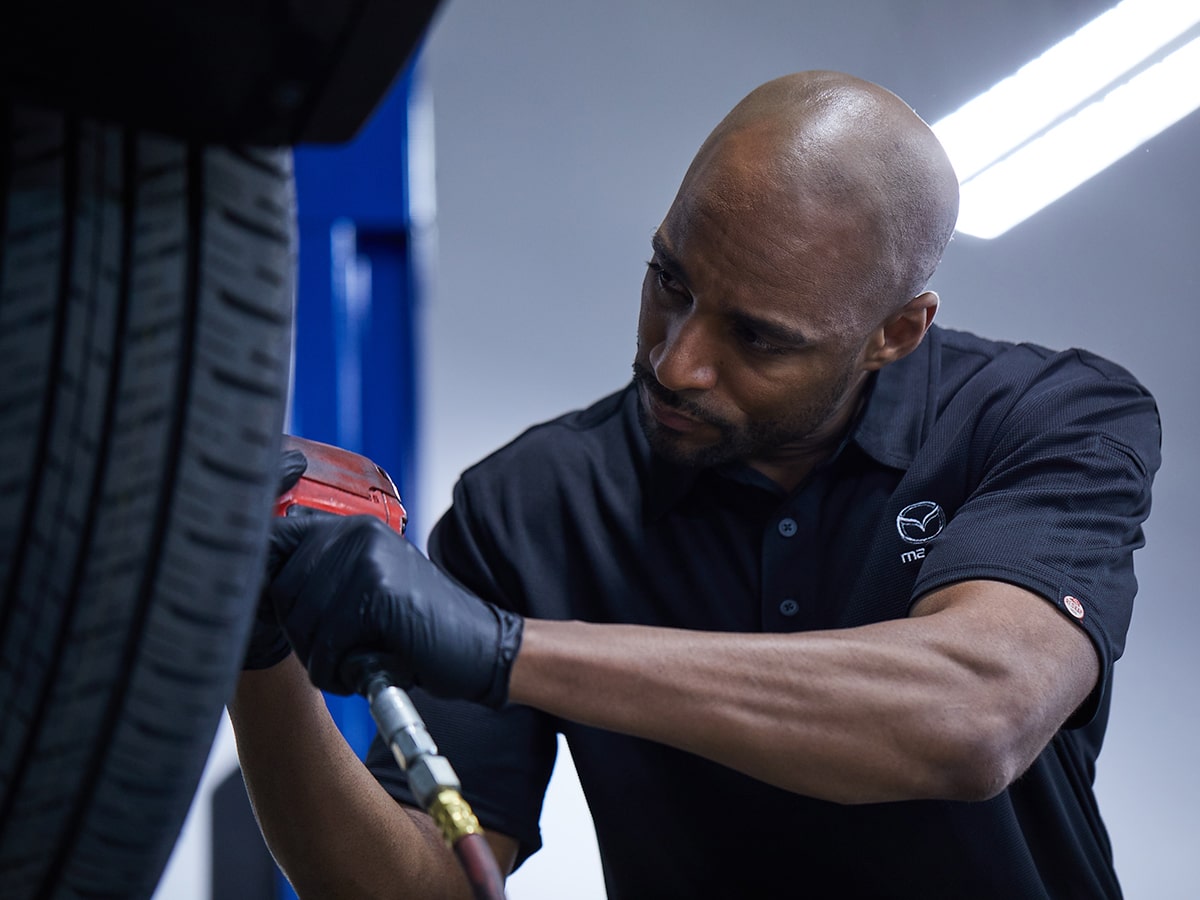 Online Mazda Service Scheduling in El Paso, TX
We're El Paso's most convenient Mazda service department for several reasons, one of the most popular of which is our online service scheduling. Waste no time booking your next appointment with Viva Mazda. Visit our online service scheduling page, and book your next tire rotation at your convenience – preferably with your next oil change in our El Paso, TX Mazda service department.
Schedule Service
Viva Mazda Service Department Amenities
State-of-the-Art Facility
Loaner Vehicles
Viva Mazda

8980 Gateway Blvd E
El Paso, TX 79907