Battery Replacement
in El Paso, TX
Mazda Battery Replacement Service in El Paso, TX
Mazda owners visit our service department for new battery installation with a fast turnaround. We have certified technicians that install original equipment batteries. Battery replacement service includes an unlimited range warranty for the first three years and is prorated for the next 2 years. We encourage customers to check the current service and parts specials to pay less for certified Mazda service. Schedule a battery replacement service today at Viva Mazda of El Paso, TX.
Batteries & Routine Maintenance
Automotive batteries store electricity to start the engine and power accessories, such as lights, radio, and windows, when the engine is not running. The alternator recharges batteries with low voltage. Batteries last for about 2-4 years before developing problems and failing. Batteries are notoriously susceptible to the extreme heat that leads to rapid degradation compared to mild climates. Automotive researchers have found that batteries in hot climates such as Texas have a shorter life than batteries in the northern United States. This is why local Mazda drivers should schedule a battery inspection with electrical testing at least annually.
Battery Inspections & Electrical Testing
Visiting us for routine maintenance such as oil changes will ensure that your battery is inspected as part of complimentary multi-point inspections. Batteries due for replacement can have case deformities, leaking fluid, corrosion, or fail electrical testing. We have certified technicians to provide a visual inspection for physical defects and perform an electrical test that measures reserve capacity and cold-cranking amps. Batteries that fail the physical inspection or electrical test should be replaced immediately, given the imminent failure risk.
Certified Mazda Battery Replacement Service
A certified technician starts by removing the spent battery. We inspect the battery charging system, including the alternator, drive belt, and terminal. Terminals with corrosion might need to be replaced for reliable battery charging. We install a genuine OEM battery to specifications and verify performance by starting the engine.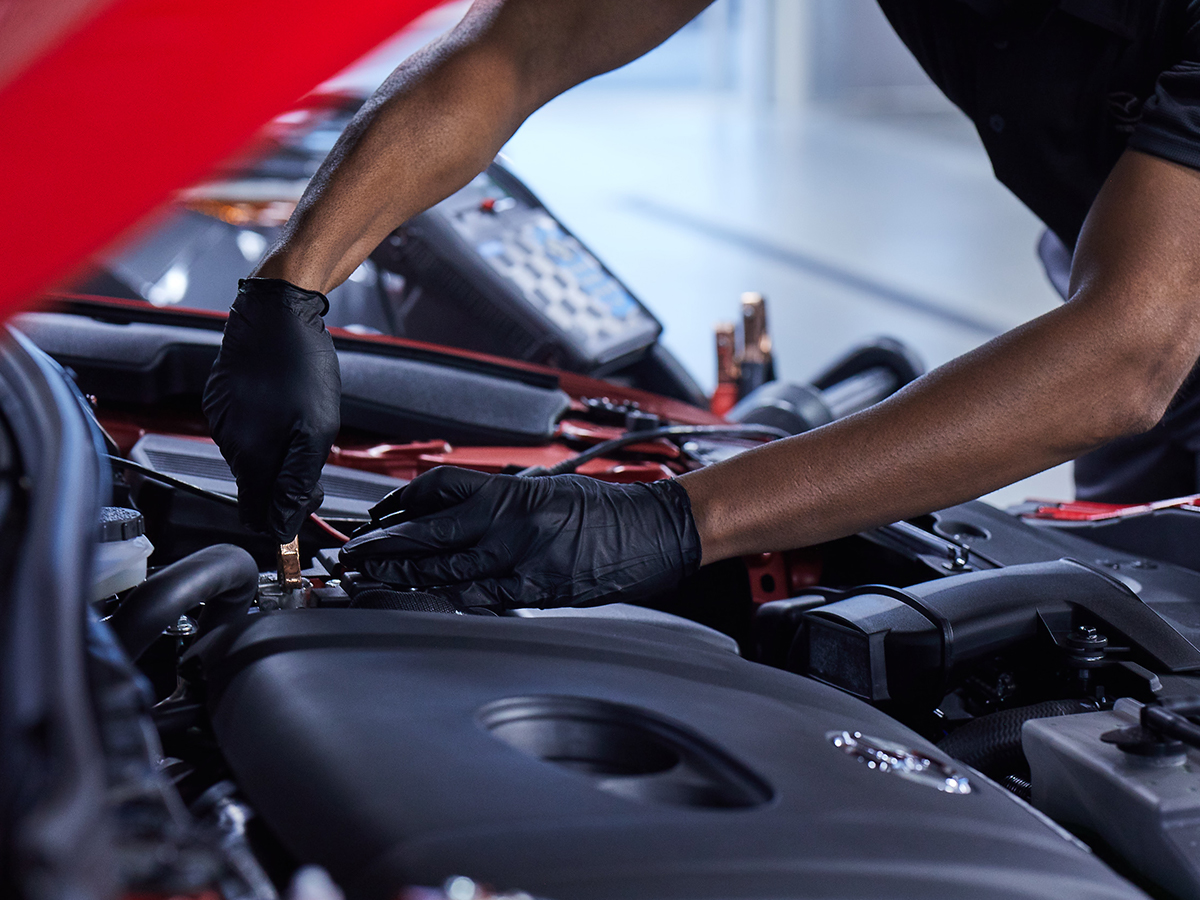 Schedule Battery Replacement Service at Viva Mazda in El Paso, TX
Mazda owners in El Paso, Fort Bliss, Socorro, Horizon City, and Sunland Park can schedule battery replacement service using the online service scheduler with 24/7 accessibility and completed within a couple of minutes. We also schedule appointments by phone or in-person during regular service department hours. Most customers wait in the comfortable lounge area while we quickly install the new battery.
Schedule Service
Viva Mazda Service Department Amenities
State-of-the-Art Facility
Loaner Vehicles
Viva Mazda

8980 Gateway Blvd E
El Paso, TX 79907